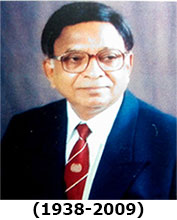 DR. GIRISH BIHARI SAXENA
(IPS, EX-DGP, UP)
Educational Qualifications:
Ph.D.; M.Sc.; LL.B.; Prof. in French
Russian, German, Spanish,
Diplomas in Journalism, Computer,
Yoga (B.H.U.), Management,
Police Community Relations.
Sir,
Education in the contemporary scenario is not merely focused on getting a job but it must ensure that students are empowered to be agile to face competitive pressures. IISE Group of Institutions has a proven track record of being a leading management, IT and media institute since 1991. We at IISE believe in holistic learning that adds value to the life and career of our students. We believe in empowering the students and nurturing their insight so that they embark on a journey of academic and knowledge evolution. Our academic endeavors transform students into competent professionals capable of fulfilling the strategic requirements of the corporates.
The academicians also keep on the studying these changes in order to meet the needs of industry. Being a Research Institute in Management and simultaneously teaching highest-level AICTE approved plus NBA Accredited Management Course and also the IT (MCA), our research perceptions have evolved certain formulations for 21st Century industrial scenario, which are humbly submitted for consideration.
Recruitment so far has been English – communication centric with the result that a convent educated + MBA applicant with poorer grasp of Management subjects (provided the syllabus is current industry-centric) gets precedence over a more management-knowledge-&-skilled but less English-verbose applicant. In the new economy – the knowledge with reasonable (Not the better or the best) level of communication in English, coupled with native approach in dealing with the customer.
Lest I appear to be espousing the cause of the 'bloody native', I deny this completely and emphasize that what I am pleading for is a higher preference for 'knowledge plus reasonable communication skill' above 'verbosity minus solid grasp of management issues and skills'.
This, I say, has been necessitated by the appearance of a new soul for the new economy- KNOWLEDGE. It is 'knowledge' that is capital, the asset, and verbosity is its poor competitor (the 'also ran'). IT is the seventh horse of the Sun which carries and converts 'knowledge' into cash and capital. The metal and capital intensive industry is now passe. Cash in the New Economy will flow from the barrel of BPR when applied to add knowledge-through-IT to metal bashing, which is the only mode of modernizing Indian industry for globalization to survive and , if not, perish. Dot coms may have perished but IT has not. Enthusiasts made IT run too fast on the dot com wagon and so the body i.e. dot com fell and perished but the soul, i.e. IT has survived to enter new bodies.
When PGDM / MBA knows IT in its generalities extending to the border---not interior---of hard core IT, then the company has found its best Manager whose moderate verbosity crusted over hard core management knowledge will produce cash and prosperity all along the full line of Company's business activity.
Finding such a manager is the challenge for Corporate of New Economy.
We welcome you to be associated with our institute to help and guide us in developing managerial skills of young graduates and future managers of the nation.